About PSFNC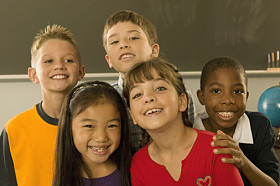 Public Schools First NC is a statewide, nonpartisan organization focused solely on public education issues. We collaborate with teachers, parents, business and civic leaders, students and communities across North Carolina in support of an effective public education system that will prepare each child for life.
Strong public schools are critical for growing our economy and maintaining the vitality of our communities. Our goal is to educate and inform North Carolinians about critical issues that impact our schools, our teachers, and students and to engage all stakeholders in supporting a quality public education system.
We support:
Adequate, equitable funding that reflects the national average for North Carolina's school districts.
Programs and compensation that encourage recruitment, preparation, support and retention of professional, experienced educators.
Excellent educational environments that are partnerships between schools, families, teachers and the community.
Access to high-quality pre-school, so each child comes to school "kindergarten ready."
Providing resources that lessen the impact of poverty on a child's academic success.