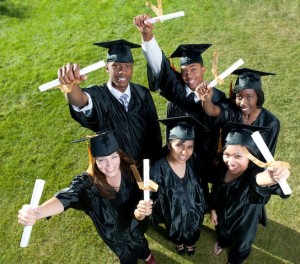 "A system of general instruction, which shall reach every description of our citizens from the richest to the poorest, as it was the earliest, so will it be the latest, of all the public concerns in which I shall permit myself to take an interest."    – Thomas Jefferson, 1818
Public education is the cornerstone of our democracy. It cultivates the next generation of thoughtful and engaged citizens and it embodies one of the most fundamental ideals of the American dream: equality of opportunity. The basis of equality of opportunity is belief that every American child, no matter the circumstances of his or her background, deserves a fair start in life. Public education can give even the poorest child a chance to excel through hard work, individual initiative, and the nurturing guidance of excellent teachers.
Thomas Jefferson recognized that talent and ingenuity were not to be found exclusively among a narrow class of citizens, but could be found anywhere. Public schools, in opening their doors to all, would cast the widest net and foster the greatest progress, both for individual Americans and for our country as a whole. Indeed the history of public education in the United States is a testament to what is possible when we invest in the next generation. The expansion of access to public education throughout the 19th and 20th centuries brought a marked increase in economic prosperity.
In addition to the economic benefits of a well-educated workforce, there are continued civic benefits from public education. Public schools arguably comprise the one institution of our society that still knits us together as a community and binds us in a set of shared values. Public schools honor and celebrate diversity, but do so in a way that also honors the common good—the values, interests, and dreams we have in common. Public schools seek not to splinter us into enclaves of difference, but to bring us together in a shared sense of purpose and pride in being an American.
Indeed, perhaps the greatest threat of the move towards privatizing our schools is the erosion of the public's trust in their public schools as a vital civic institution. Privatization turns our children's education into just another consumer item.  Under the cover of consumer "choice," privatization fosters a system of have and have not schools, undermining equality of opportunity and weakening the NC Constitutional obligation to provide a sound, basic education for all public school students.
Well-funded, diverse schools are the embodiment of these democratic ideals.
Learn more: