2015 Razor Walker Award
"Yevonne Brannon exemplifies a true Razor Walker Award Recipient through her dedicated service and passionate advocacy over the course of four decades for a strong public school system that benefits all of the children in our state."

The Watson College of Education at UNC-Wilmington named Public Schools First NC Board Chair Yevonne Brannon a recipient of the 2015 Razor Walker Award.  The award honors individuals whose "vision, tenacity, courage and sacrifice have made a difference in the lives of young people in our state."
2014 Friend of Education Award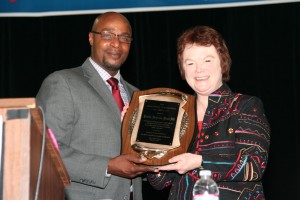 On March 22, 2014, Public Schools First NC was named the recipient of the 2014 NCAE Friend of Education Award.
The Friend of Education Award is given annually to a person or group that positively impacts public education and educators. This year's award honors the partnership that Public Schools First NC has formed with NCAE in the fight to save public education.
The award is inscribed: "In recognition of outstanding support of public education and advocacy for the success of all children by promoting collaboration among communities, families and schools.
We are honored to receive this award from the North Carolina Association of Educators.  We couldn't have done it without support from members of the community like you!
Read the press release: Friend of Education Award 2014