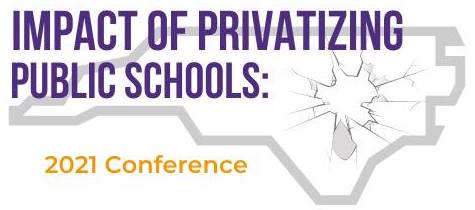 2021 Conference
Our 2021 conference — Impact of Privatizing Public Schools — was held on October 9 via Zoom.
Ticket holders received access to the recording via email.
See Conference resources below.
Keynote address
Dr. Noliwe Rooks, Department Head of Africana Studies at Brown University, is the founding director of the Segrenomics Lab. Rooks will speak on research included in her current book, in which she coined the term "segrenomics," Cutting School: Privatization, Segregation, and the End of Public Education. You can purchase this book for an additional $15 when you register and we will ship it to you the next day!
Featured presenters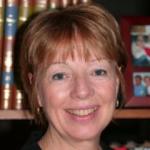 Dr. Carol Burris, Executive Director of the Network for Public Education (NPE), is a retried principal and middle and high school level educator. Dr. Burris will present her research findings about NC Charter schools detailed in her recent report: Chartered for Profit: The Hidden World of Charter Schools Operated for Financial Gain.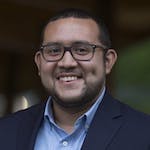 Ricky Hurtado, a new member of the NC House of Representatives, is an educator and co-founder of LatinxEd. He will discuss the challenges that educators face in the classroom, the funding needs of our public schools, and legislative bills that impact public education's teachers, students, and families.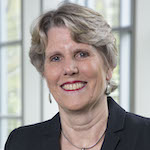 Jane Wettach, a Duke Law School professor, teaches Education Law and directs the Children's Law Clinic. We'll have a special program with Jane where she'll discuss her 2020 study on NC school vouchers that examines how NC's voucher program is impacting public education.
2021 Conference Resources
North Carolina's Path Towards Privatization Timeline (click image to enlarge)
2019 Conference Recap
To celebrate 10 years of advocacy for public schools, we held a conference to explore the impact of privatization on our public schools. If you missed the conference, you can view the
recordings
.
2019 Materials
Speaker Bios (printable)
Speakers
Richard D. Kahlenberg is director of K–12 equity and senior fellow at The Century Foundation.  He has been called "the intellectual father of the economic integration movement" in K-12 schooling and "arguably the nation's chief proponent of class-based affirmative action in higher education admissions." He is the author or editor of 17 books, including All Together Now: Creating Middle Class Schools through Public School Choice (2001); and The Future of School Integration: Socioeconomic Diversity as an Education Reform Strategy (2012). Kahlenberg's articles have been published in The New York Times, The Washington Post, The Wall Street Journal, and elsewhere.  He is a graduate of Harvard College and Harvard Law School.
Justin Parmenter is a 7th grade Language Arts teacher at Waddell Language Academy in Charlotte, NC.  He began his teaching career as a Peace Corps Volunteer in Albania and later taught in Istanbul, Turkey, and on the White Mountain Apache Reservation in Arizona before coming to North Carolina in 2002. He was selected as a finalist for Charlotte Mecklenburg Schools Teacher of the Year in 2016. Parmenter serves on the boards of the North Carolina Center for Advancement of Teaching, Public Schools First NC, and Red4EdNC. He writes frequently about education policy and classroom practice on his website Notes from the Chalkboard, and his writing has appeared in The Washington Post, USA Today, Education Week, and elsewhere.  He is a graduate of Northern Arizona University and University of Missouri-St. Louis.
Erika K. Wilson is Thomas Willis Lambeth Distinguished Chair in Public Policy and Associate Professor of Law at the University of North Carolina at Chapel Hill.  Her areas of expertise include civil litigation, civil rights, critical race theory, public education and school reform, public policy, and race discrimination. She currently teaches Critical Race Theory, Civil Lawyering Process, Civil Litigation Clinic, and Education Law.  Professor Wilson's research interests focus on issues related to education law and policy, specifically obtaining educational equality for disadvantaged students, and the intersection between race and the law. Her articles have appeared in the Cornell Law Review, UCLA Law Review, Duke Journal of Constitutional Law and Public Policy, and Michigan Journal of Law Reform, National Black Law Journal, among various others. In 2016, her work was selected for presentation at the Harvard Yale Stanford Junior Faculty Forum.  In 2017, she was awarded the James H. Chadbourn Award for Excellence in Scholarship from the UNC School of Law. In 2018, she was awarded the Thomas Willis Lambeth Distinguished Chair in Public Policy.
Stu Egan is a 21-year veteran English teacher in the Winston-Salem/ Forsyth County School system. Egan grew up in Georgia and obtained a BA in English, his MAEd in English Education from Wake Forest University, and an EdS from Lincoln Memorial University. A National Board Certified Teacher, Egan currently teaches Advanced Placement English Language & Composition, Advanced English Literature and Composition, and Shakespeare as well as chairing the English Department. A father of two children in public schools, Egan also authors the blog Caffeinated Rage that deals with educational issues in North Carolina and raising a child with special needs.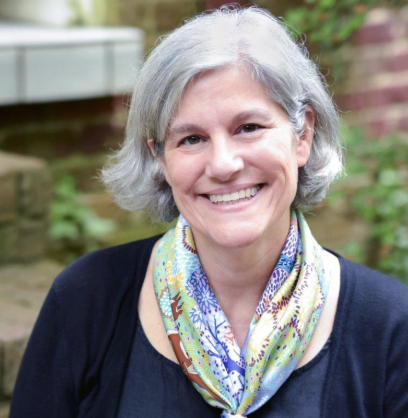 Christine Kushner is a professional policy analyst and freelance writer who has lived in Wake County since 1989. A product of North Carolina public schools, she graduated from the University of North Carolina at Chapel Hill and has a Master's Degree in Public Affairs from Princeton University.
Her work as a policy analyst, consultant and journalist has focused on the fields of public health, health care access, and public education.  She has experience in communication, policy, program administration and grant-writing.  She has been active in several PTAs, has served on school improvement teams, and still volunteers in WCPSS classrooms.  She is a member of Holy Trinity Greek Orthodox Church and is a William Friday Fellow for Human Relations through the Wildacres Leadership Initiative.  Christine has served on the Wake County Board of Education since 2011, serving two terms as Chair and two terms as Vice Chair.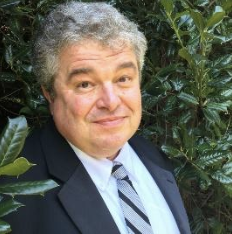 Timothy B. Tyson is senior research scholar at the Center for Documentary Studies at Duke University and adjunct professor of American Studies at the University of North Carolina. His recent New York Times bestseller, The Blood of Emmett Till, was a finalist for the 2017 National Book Award and won the Robert F. Kennedy Book Award.  His Blood Done Sign My Name, finalist for the National Book Critics Circle Award, won the Southern Book Award for Nonfiction and the Grawemeyer Award in Religion. His first book, Radio Free Dixie: Robert F. Williams and the Roots of Black Power, won both the Frederick Jackson Turner Award for best first book in US history and the James Railey Prize for best book on race (Organization of American Historians). His "Ghosts of 1898: Wilmington's Race Riot and the Rise of White Supremacy" won the 2006 Excellence Award from the National Association of Black Journalists. Tyson serves on the executive boards of the NC NAACP, Repairers of the Breach, and the UNC Center for Civil Rights.
Kris Nordstrom is a Senior Policy Analyst with the Education & Law Project. Prior to starting work with the Justice Center in April 2016, Kris spent nine years with the North Carolina General Assembly's nonpartisan Fiscal Research Division, where he provided budget analysis and information to members of the General Assembly on public education issues. Kris holds a Master of Public Policy from the Sanford School of Public Policy at Duke University and BA in Economics from Wake Forest University.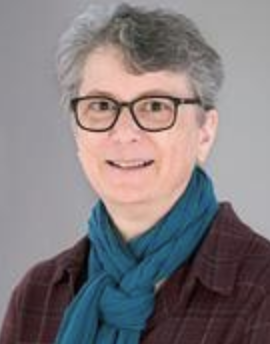 Carol Sawyer was elected to the Charlotte-Mecklenburg Board of Education in 2017. On the CMS Board she is a member of the Policy Committee and chairs the Facilities & Operations Committee. She holds master's degrees from the University of Pennsylvania and George Washington University, and earned her bachelor's degree in psychology at the University of Wisconsin in Madison. She has served as director of exhibits and planning at the Museum of Life and Science and as a consultant for nonprofit organizations. Sawyer previously served on the Board of Education's Equity Committee and is a co-founder of the advocacy organizations OneMECK and Mecklenburg ACTS. 
Irving L. Joyner is a Professor at North Carolina Central University School of Law since 1982. He regularly teaches courses in Criminal Law; Criminal Procedure; Civil Rights and Race and the Law.  He has written three editions of his book, Criminal Procedure in North Carolina and has authored several law review articles, including "Pimping Brown v. Board of Education: The Destruction of African-American Schools and the Mis-Education of African American Students" which appeared in the NCCU Law Review. Additionally, Professor Joyner served as the Vice-Chairperson of the 1898 Wilmington Race Riot Commission and co-hosts the highly acclaimed "Legal Eagle Review" which airs on WNCU 90.7 FM. Joyner was honored as the 2004 Lawyer of the Year by the George H. White Bar Association, is a past recipient of the Lawyer of the Year Award by the North Carolina Association of Black Lawyers and recently received the National Bar Association Legacy Award. Over the years, Joyner has received a number of honors for his work as a civil rights and criminal law litigator and political activist. The most recent recognition was the 2019 NAACP's William Robert Ming Advocacy Award.
Rob Schofield, Director of NC Policy Watch, has three decades of experience as a lawyer, lobbyist, writer and commentator. At Policy Watch, Rob writes and edits daily online commentaries and handles numerous public speaking and electronic media appearances. He also delivers a radio commentary that's broadcast weekdays on WRAL-FM and WCHL and hosts News and Views, a weekly radio news magazine that airs on multiple stations across North Carolina.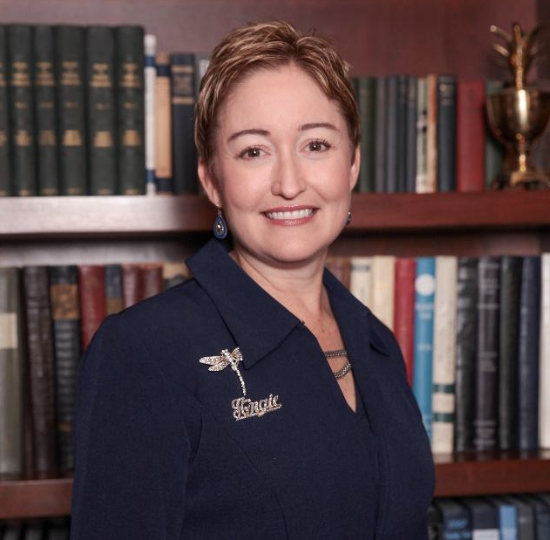 Angie Scioli is a nationally board certified high school social studies teacher in Wake County. A former NC Teaching Fellow, she was recognized as Wake County's First Year Teacher of the Year in 1994 and school level honoree in 1999. After earning a master's degree and becoming a police wife and mother, her open letter declaring we should all support public schools by "Wearing Red4Ed on Wed." led to the founding of Red4EdNC in 2013. She is the primary subject of the documentary titled Teacher of the Year, released in 2016, and has been published in The Washington Post, featured in Education Week, and recently co-authored an article for the UCLA Law Review. She is a member of the Board of Advisors of Public Schools First NC and the 9-12 Director for Wake NCAE. She is a graduate of UNC-Chapel Hill and was awarded the Excellence in Teaching Award from that institution in 2018.
Tamika Walker Kelly is an Elementary Music Specialist K-5th grade at Morganton Road Elementary School in Fayetteville, NC. As an NC Teaching Fellow Alum, she has served in several school and professional roles during her 12 years in education.  She was the 2015 Westover District Teacher of the Year for Cumberland County Schools. Tamika currently serves as Vice-President of the Cumberland County Association of Educators and serves on the boards of the North Carolina Association of Educators, Public Schools First NC, and Red4EdNC. As a public education activist, she has been featured in publications such as Axios, Teen Vogue, and Time. Kelly is a member of the Harambee Graduate Chapter of Swing Phi Swing Social Fellowship, Inc ® and a graduate of East Carolina University.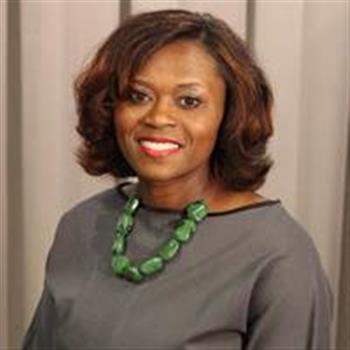 Malishai "Shai" Woodbury has over 20 years of experience in secondary and higher education. She is a licensed teacher and administrator in NC and Instructor of History at NC A&T State University. She is also certified as a Priority School Leader through the Principals' Executive Program of the Kenan-Flagler Business School. Since 2007, Shai has worked successfully with low performing schools to make sure all students succeed. She has spent the last two years intensely dedicated to an organization she helped found, the Community Coalition for Equity in Education. Ms. Woodbury was elected to the Winston-Salem Forsyth Board of Education in 2018 and is currently serving as the board's first African-American Chair. She is also a member of Alpha Kappa Alpha Sorority, Inc.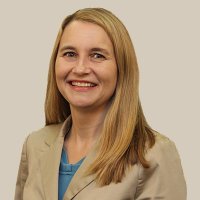 Natalie Beyer is a community volunteer and advocate for equity and excellence in public education. Natalie attended public schools in Durham and she earned a Bachelor's degree from Rice University in Houston, Texas and a Master's in Healthcare Administration from the School of Public Health at the University of North Carolina at Chapel Hill. Natalie has served on the Durham Board of Education since 2010 and serves as the Board's Legislative Liaison. She is a frequent guest lecturer and was awarded the President's Award by the North Carolina Association of Educators. Natalie serves on the Board of Public Schools First NC, Durham's Project Graduation and the Alumni Board of the NC School of Science and Mathematics. Natalie and her husband, John, are the parents of three children who all attended Durham Public Schools since Kindergarten.
Background
In 2009, a group of concerned community members and parents gathered in a Raleigh church basement to organize a response to threats to our nationally recognized school system. They would go on to form "The Great Schools In Wake Coalition," a grassroots advocacy organization with the mission of providing "accurate information to educate the public about policy initiatives that would impact the quality of education, to foster well-informed discussions about critical education issues, and to advocate for policies that improve public education in Wake County." Our members attended countless school board meetings, hosted community forums, wrote hundreds of Letters to the Editor and worked diligently to hold the 2009 school board accountable for keeping our schools diverse and providing equitable resources to all students in Wake County regardless of a student's zip code or income. Based on our work in Wake County, we expanded statewide in 2013 establishing Public Schools First NC. Both organizations are going strong and are working together to present this timely conference.