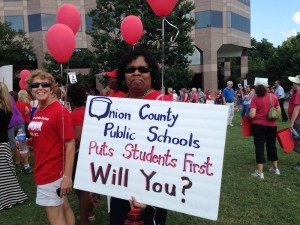 It's important to stay on top of important public education issues.  That's where Public Schools First NC can help you. We post research and information on our website, and host meetings across the state to keep you informed.  Can't make one of our meetings? We also hold convenient webinars that you can access from home.
Join Our Network
We send out newsletters containing the latest information on public education across the state and the U.S., including articles, research, events, and more.  During the legislative sessions, we will keep you up-to-date on critical bills and other policy issues so you can be well-informed.

Sign up for our e-Newsletter.
Host a REEL Discussion
Want to get people involved in learning more about public education in a way that's fun and engaging? Invite your neighbors and friends for a night of education and conversation. Host your own movie night!
Learn how you can host a REEL discussion about public education in your home.
Attend an Upcoming Event
Find out about forums, community meetings, trainings, and other events occurring across North Carolina. Meet other engaged citizens, build your knowledge and connections. 
Donate
Your generous contribution will support us in our efforts to provide accurate information to educate the public about programs and policies concerning the health of North Carolina's public schools, and to help organizations across the state engage and educate their communities.