WATCH OUR VIDEO EXPLAINING THIS ISSUE.
The General Assembly created a school takeover district in NC during the short session of 2016. It was called the Achievement School District until the 2017 budget renamed it, possibly to distance it from the poorly performing ASD in Tennessee. Now known as the Innovative School District (ISD), this statewide school unit will comprise five of the lowest-performing elementary schools from around the state. The ISD is directed by  Superintendent Eric Hall, who was recommended by a committee appointed and headed by Lt. Gov. Dan Forest and approved by the SBE. Dr. Hall will select charter school operators from among those already operating in the state, or their affiliates, to run up to five schools in total by 2019-20. The district will begin operating schools in 2018-19, and it must include rural and urban schools, with no more than one coming from a single district.
The newest timeline for ISD operation shows that charter or education management organizations (CMOs/EMOs) were supposed to file letters of intent to apply for IS selection in August 2017, well before the affected schools are chosen, though that deadline was extended to Sept. 29, 2017. Charters are invited to formally apply in November 2017, again before the SBE formally approves the selected schools in December. In other words, charter operators will not know if they're applying to operate schools in the kind of environment in which they've previously succeeded since they don't know which schools will be selected or even where they are. The state released a list of 48 eligible schools on Sept. 7, 2017.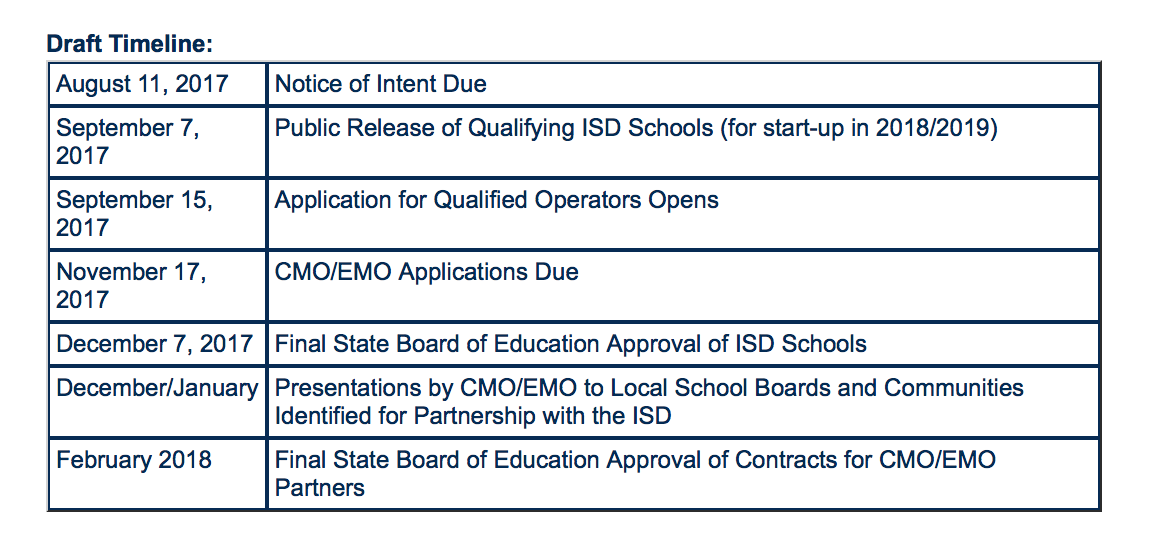 Charters selected as IS operators will assume control of a school and its physical resources, taking it away from the locally elected board while maintaining its geographical attendance zone. The IS will be funded by attendance, as charters are, and the monies will be transferred from the local authorities to the ISD. The charter operators, which can be based out-of-state and be for-profit, will run the schools for at least five years and as many as eight years. ISD schools will be required to participate in the federal lunch program. Local districts will remain responsible for transportation and facilities and capital expenditures. The logistics of this are yet to be determined.
The ISD law requires that districts that have a school selected for the ISD either submit to the takeover or close the school.  The law includes a provision allowing districts that surrender a school to the ISD to create an "Innovation Zone" (i-Zones) that would allow charter-like flexibility for up to 3 other continually low-performing schools. The 2017 budget extended i-Zones so that"if the local school administrative unit has more than thirty-five percent (35%) of the schools identified in the unit as low-performing, for all of the low-performing schools located in the unit." However, districts already had the ability to request flexibility for low-performing schools under pre-existing law. The 2018-19 budget includes $450,000 for i-Zone grants of up to $150,000 for districts that can match that amount. This is not enough for all five districts involved to receive the maximum grants if they qualify. The top award amount also did not change even though the budget potentially expands the number of schools that may be involved in the i-Zones.
History of ISDs/ASDs
In February 2016, the Center for Popular Democracy compiled data on the nation's three existing ASDs. The results are not encouraging.
In New Orleans, the so-called Recovery School District began operating in the tumultuous wake of Hurricane Katrina. It has reported student gains but some studies undermine those claims and find instead practices that inflate student achievement by excluding certain types of students, particularly those with disabilities, and changing achievement metrics. Moreover, a long-running lawsuit's settlement showed that thousands of special-needs students experienced discrimination and illegal discipline as the RSD routinely violated the federal law. Michael Deshotels, the former director of the Louisiana Association of Educators, has analyzed the RSD He says, "if schools in the RSD are compared using student test performance, there is no indication of improvement compared to all the public schools in the state. The ranking of takeover schools started in the bottom quartile compared to all schools in the state, and remains in the bottom quartile."
Michigan created the Education Achievement Authority in 2011 to run 15 schools in Detroit, a district that the state had already taken over. Three schools were converted to charters. Plagued by high staff turnover, financial corruption, and declining enrollment, student achievement in the EAA actually declined. The legislature is now disbanding the EAA as part of yet another restructuring of the Detroit Public Schools.
Tennessee's ASD consists of school primarily in Memphis, with just two of 29 in Nashville; 24 of the schools were converted to charters. The district's gains after three years are inferior to those achieved by district-led efforts in similarly struggling schools. In 2016, as NC's ASD became law, researchers from George Washington University and Vanderbilt reported: "While some might argue that the conditions for charters in the ASD put them on an even playing field with their public counterparts in high-poverty neighborhoods, the reality for ASD charters was in many ways more complex. ASD operators had to contend with many of the constraints that impede traditional schools yet without the benefits that a conventional district could provide. For one thing, traditional public schools have the advantage of being just that—traditional. Regardless of their performance, these schools and their employees have the imprimatur of long local standing, and the social and political capital that accrues with this resident identity. As outsiders tainted by the perception of state takeover, nearly all ASD charters were cast with suspicion and did not enjoy this taken-for-granted status."
In August 2016, Tennessee's state auditor found massive problems with the fiscal management of its ASD. The Times Free Press reports that analysts found "seven key areas where ASD did not establish processes over key human resources and payroll functions, including segregating duties; maintaining personnel files; verifying education credentials; documenting time and attendance; completing performance reviews; documenting approvals of bonuses and pay raises; and exiting employees."
In 2017, Tennessee's legislature seriously curtailed the purview of the ASD, taking away the district's ability to start new schools and restricting its authority to take over struggling schools. The state also cut its leadership team and consolidated management offices. Chalkbeat reports: "Education Commissioner Candice McQueen says the state will no longer default to the Achievement School District when considering how to help Tennessee's lowest-performing schools. … Tennessee will lean on more local district-led turnaround initiatives."
The structure of NC's ISD, as detailed in the legislation itself, offers no more safeguards than the others discussed. Former NCGA analyst Kris Nordstrom wrote of the aforementioned TN report, "the researchers note, 'the turnaround space for charters (in an ASD) is indisputably different from their usual circumstances, and as such calls for a very different type of schooling operations.' The Tennessee program failed despite relying upon private charter operators with 'a tremendous amount of institutional knowledge and experience.' North Carolina's [ISD] program is similarly set up for failure. Despite the assurances of the bill sponsors, there are no 'guardrails' to ensure success."
During spring 2016 meetings of the House ASD Select Committee, Dr. Gary Henry of Vanderbilt University presented research demonstrating TN's ASD's lack of effect on student outcomes. He also discussed a policy brief he wrote with colleagues who established that TN's other model for turning around schools, a district-led effort called iZone, was more successful than the state's ASD. An NC School Boards Association representative and another researcher made similar points regarding the difficulties charter school operators have when they try to run neighborhood schools, which is not what charter schools are designed to accomplish. Despite these warnings, the ASD measure was passed without additional accountability or safeguards.
North Carolina chose to establish a model that has proven unsuccessful, unaccountable, and inequitable. Most educators believe this approach could actually be harmful to some vulnerable students. The state is taking over struggling schools without providing accountability to the local community even though takeover districts offer no guarantee of improved student outcomes. Turning low-performing schools around is an urgent and worthy goal, but ISDs have not shown success for all children. There is no reason to believe that taking schools over and then asking districts with persistently underperforming schools to match any possible state funding for Innovation Zone programs will perform better.