We believe that public schools are the foundation of the American dream and the core of America's strength. Public schools must take all children and provide them with an education, regardless of their race or their parents' income or where they live. With adequate resources and excellent teachers, public schools are the best places to promote student growth and academic achievement. They can offer a robust curriculum that can help each child realize his or her full potential. They also bring communities together and are often the only place where different kinds of people come together with a shared purpose.
We believe that effective public schools benefit everyone—from the students they serve to the businesses that recruit well-educated graduates to the taxpayers who benefit when well-prepared students graduate and give back to the community. We believe that when a society educates its citizens, it preserves our democracy and fuels a vibrant economy. Every member of society needs the necessary skills to participate in the constitutional freedoms of life, liberty and the pursuit of happiness.
Our Vision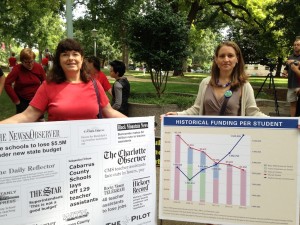 An inclusive, fair, innovative and accountable public education system that nurtures and prepares each child for success in school and life.
"The whole people must take upon themselves the education of the whole people and be willing to bear the expenses of it. There should not be a district of one mile square, without a school in it, not founded by a charitable individual, but maintained at the public expense of the people themselves."
John Adams, President of the United States (1797-1801)