We believe that public schools are the foundation of the American dream and the core of America's strength. Public schools must take all children and provide them with an education, regardless of their race or their parents' income or where they live. With adequate resources and excellent teachers, public schools are the best places to promote student growth and academic achievement. They can offer a robust curriculum that can help each child realize his or her full potential. They also bring communities together and are often the only place where different kinds of people come together with a shared purpose.
We believe that effective public schools benefit everyone—from the students they serve to the businesses that recruit well-educated graduates to the taxpayers who benefit when well-prepared students graduate and give back to the community. We believe that when a society educates its citizens, it preserves our democracy and fuels a vibrant economy. Every member of society needs the necessary skills to participate in the constitutional freedoms of life, liberty and the pursuit of happiness.
Our Vision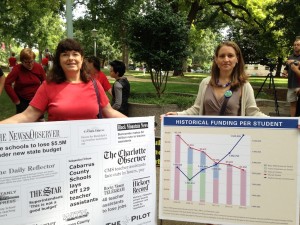 An inclusive, fair, innovative and accountable public education system that nurtures and prepares each child for success in school and life.
"The whole people must take upon themselves the education of the whole people and be willing to bear the expenses of it. There should not be a district of one mile square, without a school in it, not founded by a charitable individual, but maintained at the public expense of the people themselves."
John Adams, President of the United States (1797-1801)
Our Beliefs on Effective Public Schools
Effective public schools benefit everyone—from the students they serve, to the hardworking teachers, teacher assistants and other staff that do the educational "heavy lifting," to businesses who recruit well-educated graduates and taxpayers who generally benefit when well-prepared students graduate and give back to the community.
Public Schools First NC believes there are four key factors that combine to enable the effective public schools that educate each child for life: excellence in teaching, a rich curriculum, accountability and a safe and equitable learning environment. When any or all of these factors come under threat, so does the effectiveness of the education each child receives.
Learn more:
Excellence in teaching
Excellent, caring teachers who help each student achieve academically are critical to effective public schools. In order to recruit and retain excellent educators, teaching must be a respected and fulfilling profession in our state. Talented young people need to see teaching as a profession they wish to make into a lifelong career. Research shows that teachers want to work in supportive environments, with good leadership, where they have freedom for creativity as well as rigor, and where colleagues, rather than compete, with one another.
Inadequate funding for NC public schools has dramatically affected teacher morale. Budget cuts have raised class size, reduced support staff, and severely limited professional development, mentoring, and basic resources such as textbooks.  NC is currently ranked 42 in the nation in teacher pay. According to a March 2015 NEA Rankings and Estimates report, the average NC teacher salary is $47,783, while the national average is $57,379.
To attract and retain the best teachers, we must:
Pay teachers fairly
Provide teachers to ongoing access to professional development resources
Reward teachers for experience and advanced degrees
Give teachers reasonable class sizes and manageable workloads
Evaluate teachers fairly using a variety of tools, not only student test scores
Smaller class sizes—better outcomes result when individual attention is possible for each child
Teacher assistants in younger grades to allow needed one-on-one instructional time
Access to high-quality textbooks, technology, and other instructional supplies
Access to high quality pre-school so that each child comes to school "kindergarten ready"
Read our Quick Facts on teacher salaries, our Fact Sheet on Merit Pay for Teachers, and Fair Test's Why Teacher Evaluation Shouldn't Rest on Student Test Scores.
On Teacher Tenure
Teacher tenure (otherwise known as career status or due process) "provides those teachers who have demonstrated competence after a probationary period with due process rights before being fired. It is not, as critics contend, a guaranteed job for life."
Learn more about teacher tenure and how it protects teachers and students by reading this article by the Century Foundation's Richard D. Kahlenberg.
The NC Court of Appeals deemed the General Assembly's 2013 repeal of the teacher tenure law unconstitutional. Learn more about the decision.
Rich curriculum

A well-rounded, and innovative curriculum that advances each child is what North Carolina students need to succeed in school and in life. Educators need to be able to provide a broad education that includes significant study of literature, mathematics, the arts, history, civics, science, foreign languages, and physical education. And they need access to high-quality textbooks, technology, and other instructional supplies to do so.
Threats to a rich curriculum include:
Growth in standardized testing that promotes "teaching to the test"
Narrow focus on STEM (science, technology, engineering, math) subjects without equal investment in foreign language, music, and arts instruction
Reduction in funds for technology and basic instructional materials
Accountability
North Carolina's public schools must be held to the high standards needed to prepare our students for the challenges they will face in the future. The best way to determine whether schools, teachers, and students are meeting these standards is through careful examination of the actual work that students and teachers do during a year – including papers, projects, assignments, and teacher-created examinations. Other effective evaluation tools—including peer review, parent and student evaluations, timely feedback and coaching—must be fairly and consistently implemented to enhance teacher effectiveness as well as to identify weak teachers.
The standardized testing introduced by the federal No Child Left Behind legislation had some initial value, in that it highlighted significant performance gaps between different groups of children – sometimes within the same schools. But the proliferation of high-stakes testing that followed has become one of the greatest obstacles to school and student achievement. This testing focuses far too much time, money and effort on the narrow set of skills that can be measured by a standardized test, often at the expense of creativity, depth of thought, and the love of learning.
To meet the federal requirements for its Race to the Top grant, North Carolina developed nearly one hundred new state tests. Now, under the North Carolina Excellent Public Schools Act of 2013, NC public schools will use these end-of-grade and end-of-course tests to grade schools on a scale from A to F. In Indiana and Florida, where similar grading schemes are employed, schools that serve a high proportion of low-income students are graded D or F at a much higher rate than schools that serve high-income students.
While today, NC's A-F system does not call for school closures or takeovers as have happened in other states, it lays the groundwork for legislation such as a 
proposed bill that would establish an Achievement School District
 in which five schools receiving a failing grade would be run by for-profit management companies. It also lays the groundwork for test-based evaluation and pay-for-performance plans for our teachers—even though the methods used to link test scores to teacher quality are deeply flawed. Rather than raising achievement, these plans will simply magnify the stresses of high-stakes testing and increase the amount of test prep. Not only could this climate further reduce real learning, it could drive more families out of public schools and more excellent teachers out of the profession.
The A-F grades for each NC school by the percent of low income children in the school is presented
here
.
According to the most recent PDK/Gallop poll, "55% of Americans and 63% of public school parents oppose including student scores on standardized tests as part of teacher evaluations."
Safe and equitable learning environment
Education is the key to a strong democracy, economic competitiveness and a world-class standard of living. In recent decades, however, America has lost its place as a global leader in educational attainment in ways that will lead to a decline in living standards for millions of our children and the loss of trillions of dollars of economic growth.
– For Each and Every Child, a report by the Equity and Excellence Commission to the Secretary of Education, February 2013
Public schools must take all children and give them an opportunity to succeed academically, regardless of their race, their family income, or where they live. Effective public schools should offer an excellent educational environment where parents and teachers work together to prepare each child for career or college. In addition to a rich classroom experience, school-based services that address a child's social, emotional, and health needs must be made available to all eligible students.  Finally, our public schools should provide a healthy, safe school climate with discipline practices that promote fair and respectful treatment of students and encourage students to stay in school and graduate.
Disparities in student achievement suggest that funding for resources needed for students to succeed is not always handed out equitably.  Historian of education Diane Ravitch identifies poverty and racial segregation as the two "real problems" faced by our public education system.  School districts cannot be solely responsible for eliminating poverty in our country. However, we as citizens can advocate for policies and programs that help all children reach their full potential and keep them on track for graduation.
The bottom line is that every school should be a place each parent would want their child to attend; every learning environment should offer the resources needed so students feel ready to be productive, engaged citizens when they graduate.