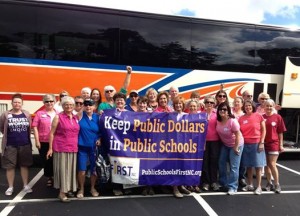 Everyone committed to strengthening public education in North Carolina can get involved! By developing a network of local volunteers across the state, you can play a leadership role and become a strong, effective voice for our public schools. Public Schools First NC is committed to educating North Carolinians from Murphy to Manteo and supporting you and your community in that work.
Legislator Contact Information
Legislators represent you and your community. Knowing who your elected officials are will enable you to reach out and share your ideas and opinions with people who make our state's laws. The North Carolina General Assembly website has lots of information on your state representative and senator. Each individual member's page contains contact information, member committee assignments, and member employment information. If you're not sure who represents you, you can find your legislators on the site.
If you prefer to contact a legislator by phone, you can call 919-733-4111 and request to speak to a member of the General Assembly. Or, you can print a list of all members of the House and the Senate (or use this xls file to allow searching/sorting and copying & pasting emails or twitter handles). These files also includes their office assignments and phone numbers.
Legislator email address lists
General email
County Commissioners Contact Information
North Carolina counties are legal entities that exercises its powers and discharges its responsibilities according to the North Carolina General Statute 153A-12. The stature states that "except as otherwise directed by law, each power, right, duty, function, privilege and immunity of the corporation [i.e., the county] shall be exercised by the board of commissioners." (Read full statute here: 153A-12.) In NC, commissioners establish the property tax rate, regulate land use and zoning outside municipal jurisdictions, and adopt an annual budget every year that included operating budget and capital funds for public schools. For an overview of how boards of county commissioners operate see this site: https://www.ncpedia.org/government/local/commissioners.  
NC has 100 counties and different counties have different election methods. The NC Association of County Commissioners have a great web site where you can learn more about your county and other NC counties.  In addition, they have a tool that takes you to the county government page of each counties where you can find out who your commissioners are and how to contact them. Go to this site and just CLICK on your county to find your commissioners.
Congressional Contact Information
The United States Congress is the legislative branch of the federal government with two chambers: the Senate and the House of Representatives. Two senators represent each state, and the number of representatives varies for each state based upon its population. There are 535 voting members: 100 senators and 435 representatives. Additionally, there are 6 non-voting members of the House representing Washington D.C. and U.S. territories.
Senators serve six-year terms with a third of the seats up for election every two years. Members of the House serve two-year terms representing districts — subdivisions of their states that are based on population. Every state has at least one representative. The number of representatives for each state is determined by U.S. Census data. The number of representatives and the boundaries of each district are redistributed based upon population shifts every ten years.
The 116th Congress convened January 3, 2019, and lasts until January 3, 2021. In the Senate, there are 53 Republicans, 45 Democrats, and 2 Independents; the House comprises 199 Republicans and 235 Democrats.
North Carolina has 13 members of the US House of Representatives and, of course, two members of the US Senate. Here is the contact information for all members of NC's Congressional delegation (in .xls), including our senators, with their areas of representation and district offices.
There are 435 members of the US House. You can find all of their Washington phone numbers and Twitter handles here (in .xls). Finally, here is the same contact information plus websites for the 100 members of the US Senate (in .xls).