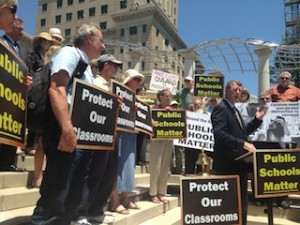 The health and welfare of public education in North Carolina is being challenged on a number of fronts. Public Schools First NC has identified five areas of particular importance and concern. Learning more about these issues will help you advocate for what each child needs to succeed in school and in life.
Privatizing Our Public Schools
Privatization of public schools refers to efforts by policy makers to shift public funds into the private sector. Many think of privatization as the "corporate takeover" of our public schools because well-funded corporations and corporate leaders often lead this coordinated effort that could alter how America's children are educated. Learn more.
Innovative School District
The General Assembly is studying a proposal to take over five low-achieving elementary schools to create an Innovative School District. This statewide district would be run by a superintendent who would choose charter school operators to run these existing schools, leaving the locally elected board with no control over them. Learn more. 
School Vouchers and Educational Savings Accounts
School vouchers are taxpayer-funded dollars that families can use to pay educational expenses for their children if they opt out of public schools. Educational Savings Accounts are created when money is taken from the public schools and given directly to parents who opt out of them to use for educational expenses at their discretion. Learn more.
Charter Schools
More than 80,000 students currently attend North Carolina's 167 charter schools, while traditional public schools educate more than 1.5 million children. For the 2016 school year, the state approved 16 out of 40 new charter applications. Another 28 applications were submitted for 2017, with eight schools on track to open. In September 2016, another 38 applications were made to open new charter schools for 2018-19. Learn more.
Education Justice
The basis of equality of opportunity is belief that every American child, no matter the circumstances of his or her background, deserves a fair start in life.  Public education can give even the poorest child a chance to excel through hard work, individual initiative, and the nurturing guidance of excellent teachers. Learn more.
Schools Our Students Deserve
Schools our students deserve rely on dedicated, experienced, career teachers. Those teachers need better pay, higher per pupil funding for more classroom resources, career protections, and the right to speak freely on behalf of our kids. If we don't treat teaching as a profession, we won't have professionals in our classrooms. Learn more.